Buying a new garage door, for many, is a once-in-a-lifetime experience. It is a unique opportunity to add function, style, and value to your home. Any homeowner also understands that choosing the right garage door is a challenging decision. From size and style, to materials, insulation, and accessories, the combination must be just right for your investment to pay off. That's why we've compiled this garage door buying guide to help you understand the process from selecting options to where to buy garage doors.
How to Shop for a Garage Door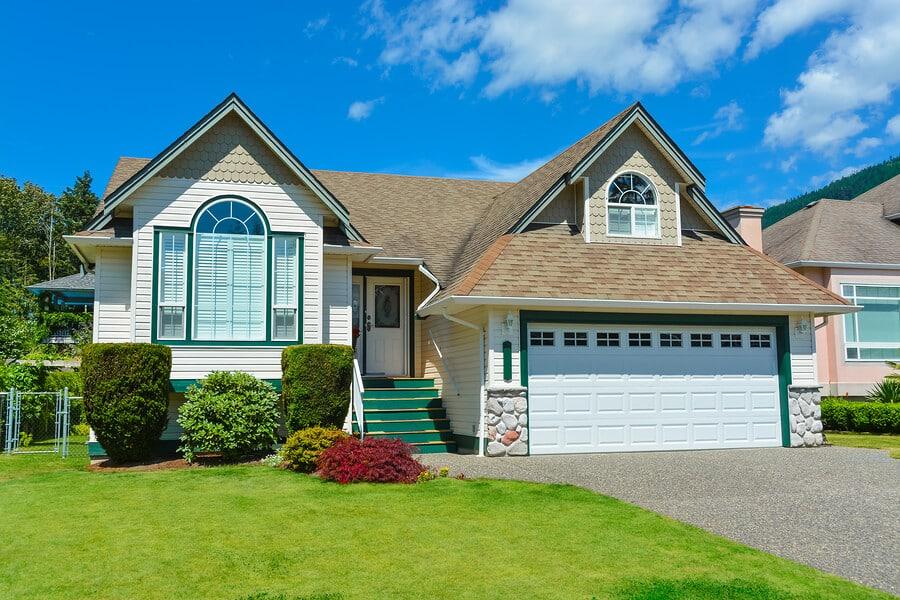 Your priority should be a garage that's functional and safe. A new garage door system hasn't had the wear and tear that can put your property and safety at risk. Curb appeal, security, and efficiency are major factors as well, and you want to consider how you'll benefit from today's technologies. Many of today's garage door materials can withstand weathering for many years, while hi-tech garage door openers and photosensors maximize safety.
In addition to matching a garage door with the style of your home, think about performance. The weather and climate in your area impact the type of insulation you choose. Some people use their garage as an extra room. For this, insulation is also important, but the garage door specifications you choose will affect your garage's overall performance and longevity.
But first, here are some basics to consider before you head to the store:
Size: Before anything else, determine what sized garage door you need. Most single-car garages require a garage door of 8 to 9 feet wide and 7 to 8 feet high. Calculate width and height by measuring the dimensions of the framed opening, minus the stop molding, a size roughly equal to the size of the door. For double-car garages, the door is typically around 16 feet wide and 7 to 8 feet high. Garages for taller vehicles, including trucks, may be 10 feet high or more. Other size-related factors include:

Left/right side room: This is the distance on either side of the door. For vertical tracks with standard extension or torsion springs, you need at least 4½ inches of space on each side.
Headroom: The space near the ceiling for an open door, springs, and overhead tracks. For extension springs, allow a minimum of 10 inches; and for torsion springs, allow at least 12 inches of room. No objects or structural elements can obstruct these components.
Backroom: The space required for installation, equal to a distance from the garage door opening to the back wall (a measurement at least equal to the door height plus 18 inches)
Budget: Cost is a top priority for most homeowners. The exact price of a garage door depends on size, material, style, hardware, insulation, the number of doors installed, and many other factors. Single-car, non-insulated garage doors are generally the least expensive. Minus installation, the door might cost a few hundred dollars. On the upper echelon of style and appeal, expect to spend up to several thousand dollars. With this cost you can benefit from greater durability, quieter operation, and energy efficiency. Not to mention a potential increase in resale value down the road.
Basic Types of Garage Doors
Common materials, such as steel, wood, or fiberglass, are available in a few basic configurations. In this segment of our garage door buying guide, here are three on the market to consider:
Single-layer: A basic construction consisting of one simple outer layer of material. Lightweight and low cost, this puts the least strain on springs, but provides minimal insulation.
Double-layer: Between an inner and outer skin, there is a layer of polystyrene. It is essentially a layer of board that provides an insulating value from R-4 to R-7 (more on R-values later).
Triple-layer: Adds a layer of galvanized steel on the interior to protect the insulating layer. Triple-layer doors are the strongest on the market and provide thermal resistance above R-15.
Garage Door Styles
There are many styles of garage doors, so consumers can find one to match just about any type of home.
Carriage style: Reminiscent of historic carriage house doors, these are suited for older homes but can add a distinguished look to any exterior. They may look like swing-type doors, but open upward like other modern overhead-operating garage doors. Carriage house garage doors come in many different materials.
Classic style: Despite being economical, classic-style garage doors offer the option of manual or automatic operation using a garage door opener. There are various color and insulation choices, while windows and other hardware can be added to customize your garage door. Precision Door Service offers literally hundreds of options in its Heritage, Lincoln, Stratford, and Olympus series of traditional doors.
Raised panel: Panel design can add a unique style to your garage door. Carriage house panels are known for their character, but there are also flush panels (flat and slightly textured), long raised panels (providing depth and distinct visuals), and short raised panels (suited for Victorian, Colonial, and Tudor homes).
Specialty: Our Horizon line uses long, narrow glass elements, highlighted by strong horizontal lines, and is available with a range of color and glazing options. Vista garage doors are sleek and suit contemporary homes with expansive glass exteriors.
Garage Door Materials
No garage door buying guide would be complete without a description of popular garage door materials. Each has its own advantages and disadvantages. Homeowners often choose a material to accommodate their budget and lifestyle. In other words, the best material is the one that is most suited for your needs.
Wood: Wood is generally preferred for its natural appearance and affordability. It is also relatively easy to customize and is heavy, which adds durability and sturdiness. Redwood, cedar, and cypress are moisture-resistant materials and have high aesthetic value. Although wood isn't all that insulating, a polystyrene backing can be added, and prefinished stains applied to help resist the elements. Wood in general needs regular refinishing and can become less durable over time. Common types include tilt-up wood garage doors (some can be built to fit right in your driveway), roll up doors with separate panels attached to a wooden frame (panels and framework may be built of different materials), and out-swinging or in-swinging carriage doors (are quite rare).
Composite wood: A polystyrene core is built into the door with a sandwich-like construction. Wood fibers (oftentimes recycled) and weatherproof resins may be used to create the panels. Composite wood often has realistic grain patterns that make it hard to tell apart from real wood, although it doesn't rot, crack, or split. You can also stain or paint it as you wish, or order it finished direct from the factory.
Steel: Although steel is heavy and susceptible to rust, dings, and dents, it requires less maintenance than wood and is quite versatile. Steel comes in various gauges. Doors constructed of steel can feature foam cores for an insulating factor, and outer layers designed to look like wood grain, stucco, and other materials. Steel doors can be ordered painted or primed and can include moldings and other overlays to create a unique style.
Aluminum: Aluminum is ideal if you are looking for a lightweight solution. It is also more dent-resistant than steel, but that depends on the quality. If you go for savings, the material grade will be more prone to denting. Heavy frames can compensate for aluminum's lightweightness, but significantly add to the cost of your garage door. Oftentimes a door made almost entirely of glass or acrylic panels is set in aluminum framing.
Vinyl: Vinyl is quite resilient and hard to dent. It is also easy to maintain. Although there are fewer color and design options, the colors extend through all layers of material, meaning you aren't likely to see scratches. Vinyl won't rot and cannot be penetrated by insects. The downside—vinyl can be costly; if you want to save, inexpensive models are available but lack insulation. Durable options feature weatherproof vinyl with an insulating foam core.
Fiberglass: If you desire a material that's resistant to humidity and moisture, warping, and insects, fiberglass is the way to go. Fiberglass comprises the outer skin, surrounding a foam core, and is supported by a steel frame that's stable and strong. It can also mimic many other colors and textures, including wood grain patterns found in oak, mahogany, and cherry. To save, you may want to opt for a single-layer door, but it can be more brittle.
With any material, insulation is an important consideration. Without it, you might make up for any savings by spending more on energy bills. Insulated garage doors can increase the comfort of your home, especially if your garage is attached, you spend lots of time in there, or there's a room above it. Good insulation prevents outside air from entering your home and conditioned air inside from leaking out.
Garage door insulation is measured by its R-value, which measures how well a specific type of insulation resists heat flow. An R-value of 0.0 means the door is uninsulated. This is fine if your garage requires no temperature regulation. Other examples include:
Slight insulation (R-6.3/R-6.5): A minor level of protection from the elements.
Sufficient insulation (R-12.9): Protects your garage and retains heated and cooled air.
High insulation (R-18.4): The highest value, it keeps your garage and house at the same temperature.
In a moderate to temperate climate, your garage door should have an R-value of at least 3; for harsh climates, an R-value of at least 10 is required.
The major garage door materials and their corresponding R-values.
Wood – R-3 to R-6
Composite wood – R-5 to R-8
Steel – R-6 to R-17
Aluminum – Negligible
Vinyl – R-4 to R-12
Fiberglass – R-4 to R-12
Parts, Accessories, and Options
Ordering a garage door from a manufacturer requires making various choices. Aside from size, material, insulation, etc., here are some other options to encounter:
Springs: Garage door springs are a critical part of your garage door system. These include extension springs on the sides of tilt-up doors that stretch and recoil to provide lifting power, and torsion springs that consist of shaft springs and drum assemblies at the top of sectional doors. Torsion springs are more effective at distributing weight evenly and support more weight. They also tend to stay in place when they break, rather than fly off and potentially cause extensive damage and injury.
Garage door openers: Automatic garage door openers are common today. They have strong, durable motors and photoelectric safety sensors that stop and reverse a garage door if something gets in the way. Remote control transmitters, small enough to fit on a key chain, operate via programmable personal codes, and can even control lights in the garage door opener system. There are many brands of openers to choose from, including Precision Door Service's own brand of Wi-Fi, Android/iOS-compatible, and DC-powered, variable-speed openers.

PDS ULTRA 900 Smart Wi-Fi Garage Door Opener
PDS-370 Garage Door Opener
PDS800® Newton DC Powered Garage Door Operator
Garage door systems also include safety cables, tracks, drums, as well as hinges, bearing plates, brackets, bushings, rollers, couplers, and nuts and bolts.
You may also want to consider options such as:
Hardware, including handles, deadbolt locks, and decorative components.
Garage door screens, which essentially turn your garage into a screened-in porch.
Windows, a popular option that let in natural light and add elegance.
Bottom seals to keep out drafts and rain (come standard or can be added).
Weather seals between sectional panels (sometimes a compressible gasket material).
Where to Buy Garage Doors
The best places to purchase garage doors include your local home improvement centers. Chain stores can provide in-store assistance, where an appointment may not be required, or online tools to help you take measurements and select materials and other options. The benefits of home improvement stores include many choices, samples to see in-person, and financing.
Local garage door companies can provide all the assistance you need, from measurements to installation. Most are affiliated with major manufacturers (they can configure pre-made sections and components from distributors), but some manufacturer garage doors themselves, so you can order custom doors without hassle. If you choose to work with a local business, do your research; you'll want to work with a reputable company like Precision Door Service of Fresno.
At Precision Door Service of Fresno, we offer a range of garage door types and options, professional installation, as well as replacement and repair services. Our technicians are certified and receive the most extensive training in the industry, while quality is guaranteed; we provide a limited lifetime warranty on workmanship.
We hope our garage door buying guide has provided the insights you need. If you're still deciding on the best choice for your home, we are here to help, and are where to buy garage doors that last.
Call 559-212-3305 or contact Precision online today to learn more.