Your garage door is a major part of your home. It can be tempting to resort to quick fixes and continue with garage door repair every time something minor goes wrong. But the day will come when you're faced with the decision of repairing or replacing your garage door to save on costs and improve the functionality, safety, and value of your property.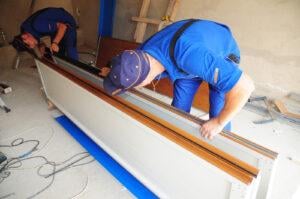 A new garage door should be considered when:
Maintenance Costs Increase
Price is one factor to consider. While the cost of fixing breakdowns time and again can add up, and this is a sure sign you should think about replacement, there's more to the puzzle. Higher heating bills may mean your garage door's weather stripping or insulation have degraded. You need to calculate the cost of repeated repairs versus replacing your door with a newer, more efficient and reliable one.
Performance Decreases
Garage doors are designed to operate for a long time, under a variety of stressors, but here are some variables to look at; if any of these start to change, you may be due for a new garage door installation:
Speed: You might notice a longer delay between pressing the opener button and when your garage door starts to open or close.
Noise: Sudden crunching, grinding, grating, or banging often mean replacement is warranted, while the longer a noise persists, the more likely greater wear has occurred.
Functionality: Wear and tear can impact the function of the door; it may be sluggish, vibrate excessively, or springs may be at the end of their operating life. In short, small problems can add up, making repairs a hassle.
Poor Appearance
A garage door covers so much surface area, any imperfections can decrease property value. If it looks antiquated, faded, or damaged, or any sections of it are broken, you may want to seek a replacement to restore the aesthetics of your property (rotted wood, dented sections, and uneven or misaligned panels are not good for curb appeal). Modern designs are also available, so you may consider an update that better reflects the times, your home's design, and your personal style and taste.
It Becomes Unsafe and Unsecure
A malfunctioning garage door can be extremely dangerous. Bad springs, unstable panels, broken sensors, and defective garage door openers can turn your garage door into a safety hazard. Ultimately, the door may not open/close all the way or reverse when something or someone is in the way. If a garage door falls unexpectedly, severe injury or death can result (and do in many households every year). A breakdown can also leave your home vulnerable to break ins by criminals looking for any way in they can find.
Precision Door Service: A Leading Fresno Garage Door Company
Choosing a garage door requires training, skill, and experience. At Precision Door Service of Fresno, you do not have to guess; we will send a professional to determine the type, material, and style of garage door that best suits your home. Our team is trained and certified in garage door installation, so you can expect the best in service and peace of mind when you enter and leave your garage. We can also help you choose options such as colors, windows, and decorative hardware, and address one of the most important aspects of modern garage doors—insulation.
To obtain more information, schedule a visit, or select a model from our premium line of garage doors, contact Precision Door Service today at 559-480-2955 or request an appointment online.