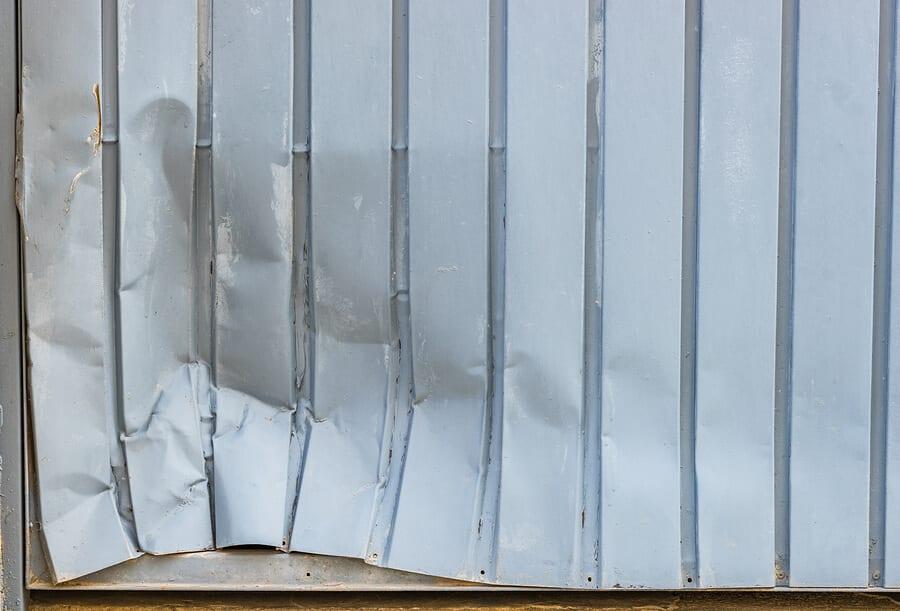 A large dent in your garage door can be rather unsightly. It can also affect the integrity and function of the door and require professional repairs. However, the smaller ones can be inexpensively repaired. Did your kid dent the door by hitting a tennis ball against it or swinging a baseball the wrong way? You don't have to live with a cratered garage door. Here's how to fix a garage door dent yourself.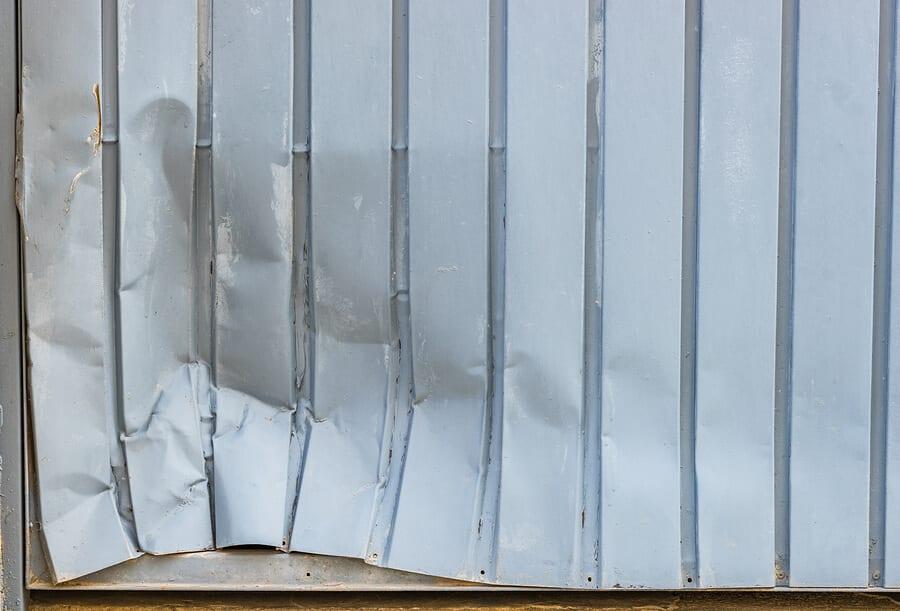 Determine How Bad the Damage Is
Is the dent localized or is your entire door panel bent? A damage assessment is called for here. An indentation caused by a basketball probably hasn't done much damage. If you backed your car into the door, the entire panel may be bent, and other components may be affected. But if the damage isn't serious, a quick fix may be all you need.
Identify the Material
Aluminum tends to be more malleable than other garage door materials. While this can make it easier to damage, it also makes it easier to fix. To get started, gather a bucket of water, sponge, dish soap, a heat source (lighter, heat lamp, heat gun, or hairdryer), tin foil, and a can of compressed air; then proceed with the following steps:
Fill the bucket with warm water and a drop of dish soap.
Scrub dirt and debris off the dented area.
Allow time for the indented spot to air dry.
Cut a section of tin foil to cover the dent.
Fix the foil over the dent with tape.
Hold the lighter flame or heat lamp over the foil, allowing heat to transmit to the dented metal.
Remove the foil, and spray condensed air evenly over that section.
The abrupt change in temperature will push the dented aluminum back into its original shape. This works because of the unique molecular structure of aluminum.
Steel, however, requires a different method. Begin by washing the damaged surface like how you would with aluminum. Use sandpaper to sand the dent, wipe away any dust, and then apply an auto body filling compound with a putty knife. Once the compound dries, use a finer grit sandpaper to smooth the area. The section can then be primed and painted the same color as the material surrounding it.
As an alternative, place a wood block over the dent, after the area has been washed, and then hit the block with a mallet. This should knock out the dent. Once the area is relatively even, sand it and then evenly apply a patching material with a putty knife. Sand it again once dry, and then apply the primer before applying a top layer of paint.
When You Need a Professional Fix, Call Precision Door Service
Precision Door Service of Fresno can quickly send a garage door repair professional to your home, who knows how to fix a garage door dent. A technician takes the guesswork out of making repairs and avoids potential mistakes that can lead to more serious damage. They employ the right knowledge, techniques, and tools to fix your garage door fast and dependably.
Repairs can be performed on garage doors of any size. We'll even check internal components and your garage door opener to be sure there isn't any hidden damage. Our trucks are fully stocked so we have all the tools and materials to fix large dents and anything else that might warrant repairs. Call 559-212-3305 and we'll send a repair professional to your home, who can assess and fix the damage.